P821 (MC403-Z) | P822 (MC403-Z) | P823 (MC403) | P824 (MC403) | P825 (MC403)
The MC403 is a high specification Motion Coordinator using a high performance ARM11 processor, with three flexible axis ports and two Voltage outputs.
MC403-Z Highlights
Advanced 2 Axis Closed Loop Servo / 3 Axis Pulse Direction
Linear, Circular, Helical and Spherical Interpolation
Flexible CAM shapes, Linked Motion
Biss, EnDAT and SSI Absolute Encoder Supported
Hardware Linked Outputs for Camera / Laser Control
Ethernet-IP / Modbus TCP / Ethernet Interface Built-In
125 – 2000 µsec Selectable Servo Update
Precise 64 bit Motion Calculations on ARM11 Processor with VFP
IEC 61131-3 Programming
Multi-tasking BASIC Programming
Text File Handling
Robotic Transformations
Micro SD Memory Card Slot
CANopen I/O Expansion
RoHS, UL Listed, CE approved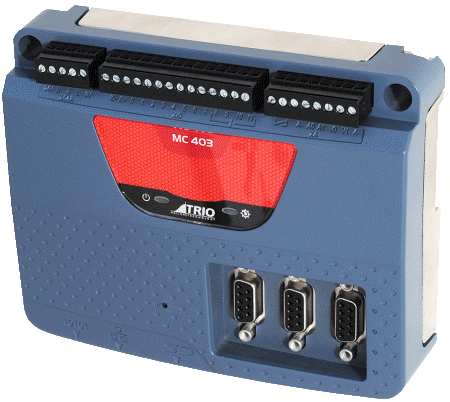 MC403-Z Scalability
The MC403 is available in 2 model formats offering 5 different axis configurations. The entry level MC403-Z does not have a built-in DAC, whereas the MC403 DAC can be used as a general purpose analogue output or for servo control where available.
All models feature a total of 16 axes in software. Any axes not assigned to built-in hardware can be used as a virtual axis. Every axis can be programmed to move using linear, circular, helical or spherical interpolation, electronic cams, linked axes and gearboxes.